---
---
A further choice of projects

---
Bee drones
Future scenarios for food
With: foodwards, ZHAW
Role: Designer and facilitator
For: ZHAW
Since: Autumn 2020

Researchers at the ZHAW have shown that honey larvae have great potential as a food source. Until today, the male bee drones are often removed from the honeycomb after the queen of the hive has been reared. This "waste product" has a high protein content. At the EU level, a proposal has already been submitted to allow bee drones to be used in food. Together with our partner foodward and the ZHAW, we have uncovered the potential of bee drones.


Co-creation session methods
Creating archetypes

Affinity map

Crazy8

Human Robo-Chef in the kitchen, who tested and cooked according to the online-participants wishes

Digital prototyping through service advertisement

Testing

Time-boxing
Further development

The main focus of the session was the ideation.

The results visualise a possible application of the research results.

Further sessions planned.
---
New forms of participation
With: ETH sustainability
Role: Designer and facilitator
For: Students and visitors of the public SDG lecture series
Since: Spring 2020

Classical frontal teaching becomes participatory. ETH Zurich faces the major challenges and opportunities of sustainability. One way is the lecture series on the SDGs. Such an important topic requires deep engagement. The participants were asked to write down their thoughts on the lecture topic and locate them into a matrix.
This led to a visible tendency in the opinion of the audience as well as intensive discussions amongst the participants when placing the sticky note.
Interrupted by another great human challenge, we applied the same principle to a digital whiteboard.

Tasks
Concept for new form of participation
Iterative development of the questions for each lecture in collaboration with the partner
Designing the posters and sticky notes
Documentation
Setting

Physical space:
Two huge prints and 100 pre-printed sticky notes

Documentation of the results

Virtual space:
Miroboards

Short explanatory video on onboarding
---
Interdisciplinary art / design project
With: Wenjia Chen, creative media artist – Holly Zhao, new media artist – Jaime Belmonte, composer
Role: Designer
For: Master program, transcultural collaboration
Since: Autumn 2017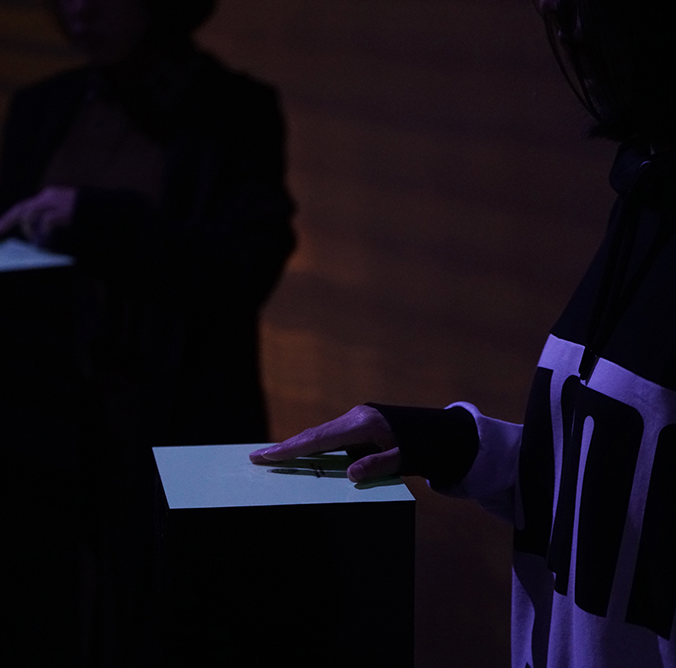 We are lab 9. We are artists, composers and designers with a multicultural background (China, Finland/Spain, Switzerland). We create within our diverse cultural and interdisciplinary backgrounds. In 2017 we met during the academic program Transcultural Collaboration (of the University of Art Zurich) in Zurich, Hong Kong and Singapore. Immediately we found a fruitful collaboration. Our pre-project was the Catcha, XXX installation: an interplay of technology, light and music that lead to interactions between humans and between the people and the work itself. A further development was the interactive installation lab9 v1.2, where we asked the question of how do we as humans influence the system. And, on the other hand, where does the opposite happen? Under the overall topic of ecologies – matters of coexistence, we found a playful way to make hidden processes of data visible. And we have the chance to change something.