---
---
Co-Creating our environment in which we want to work and live
With: Architects, planners, interior designers and several researchers working on the topics of new work and urban development, various teams on behalf of the clients
Role: Designer, facilitator and project manager
For: LXSY and Migros
Since: 2020/2021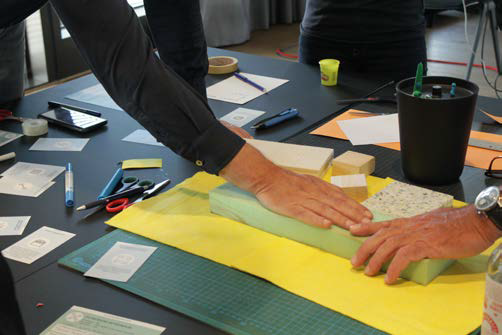 This use case combines two projects and shows the use of co-creation in planning and building physical spaces around us.
How can space be designed to meet the needs of the people who use it? Winston Churchill already said: "We shape our buildings, then they shape us" and that is still true. But today we at Yand approach this with a bottom-up approach. The people who will live and work in the buildings should be involved at an early stage and create a liveable world together with experts. Therefore, co-creation can help to find a common language of expression.

Approach and methodology:
Co-Creation sessions built up on each other
- Analysis of the current situation
- Observation methods
- Ideation
- Future workshop (future scenario, future poster)
Design Thinking methods

Map of convergence

Support and facilitation of focus groups

Process documentation and interpretation of the results

Rapid-prototyping with simple material

Result:
Both projects took a more people-centred and bottom-up approach than the participants are used to in their daily work. In particular, the invitation of experts and "non-experts" improved and stimulated the work situation. The collaboration and constellation of all participants increased the quality of the results. All participants experienced new approaches in practice.

Project A: During the eight-week process, the teams built a new co-working space jointly based on their needs.

Project B: A series of three co-creation sessions enabled the planners to gain new insights into the sustainable and neighbourhood-friendly use of an "office building". Thinking through doing was the basis for learning new ways of thinking and additional methods for developing a multidimensional view of their projects.